The yield is the amount of plants you get from your harvest. In a competitive market like we currently have, the only way a grower can make good profits is to maximize the quality and yield of their plants. Increasing output can also tide growers over to the following year's harvest.
Most legal growers want to record maximum yields while investing as little time, money, and effort as possible. Fortunately, that is achievable with the proper indoor growing techniques and optimizations. This article provides nine practical ways to ensure maximum yield for your next growing season.
9 Ways to Maximize Yields for Indoor Growing
1. Choose the right strains.
Genetics plays a crucial role in the yield of plants. Growers should focus on strains whose genetic predisposition enables them to grow and develop large flowers. While there is no perfect strain or seed type, hybrids tend to perform better and show more restraint to most plants grow issues than pure, regular strains.
Some of the best indoor strains for maximum yield and potency include Strawberry Kush, White Widow, Chocolope, Super Silver Haze, Big Bud, and NYC Diesel.
2. Optimize your growing environment.
Plants will only thrive when the environmental conditions are right. So, once you have the right strain, the next step is to perfect the grow environment to support your strain's genetics.
Temperature – The optimal grow tent temperature during the seedling stage is 78. You can increase it to 72-76 at the end of the seedling stage, or even as high as 85 if you are using carbon dioxide.
Humidity – Indoor plants thrive best with 60% to 70% humidity for the seedling and vegetative stages. This should drop to around 40%-60% for the flowering phase.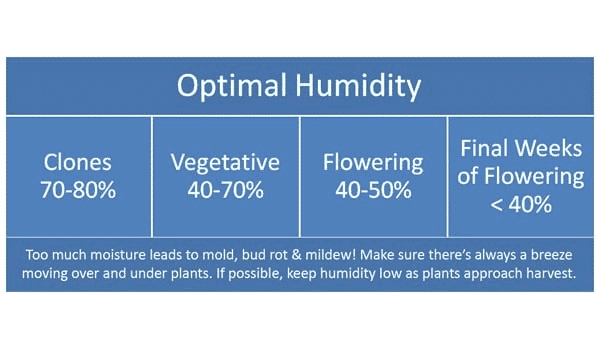 pH of Soil – Maintaining a soil pH of 6.5-7.0 will ensure your plants can effectively take up nutrients, grow well, and maximize yields.
Ventilation – You need optimal airflow to keep out mold and mildew from the roots of your plants. This is achievable by installing the right inline, and oscillating fans in your grow tent or space.
3. Maximize your canopy.
Maintaining a full canopy can help improve the growth of your plants. The goal is to support the plants while opening them up for maximum light penetration. This is best achieved by using netting to weave all the plants so that they fill up every square within the net. Some growers tend to cut the top of the plants off to create uniformity. However, it is much better to pinch the tops to retain the primary branch. This facilitates side branching and minimizes the growth stress the plants undergo.
4. Increase the container size.
The logic behind increasing your container size is simple – the more space you create for plants to grow, the bigger their potential yields. This is not the same as adding more plants than you can effectively manage to the mix. Instead, it means scaling up your grow equipment to improve the capabilities of your setup.
5. Regular pruning of dead leaves (defoliating).
Dried or dead leaves on your plants take up the bulk of the energy required for bud growth. Therefore, you should defoliate during the flowering stage to ensure all of your plant's energy goes into growing flowers. In contrast, doing this during the vegetative stage will inhibit growth. plants growing indoors tend to prune themselves, but pruning manually is more effective and facilitates photosynthesis.
6. Introduce Low Stress Training (LST)
One benefit of indoor growing is you can train your plants to grow as you want; this is called plant training. The low stress training helps eliminate the messy growth patterns that hinder your plants from getting maximum light. You will need physical support, like a string, to separate the main stalk from the side branches. Screen of Green (ScrOG) is one of the effective low stress training methods. It ensures every branch can grow outward through a grid of string.
Plants can only grow maximally and produce buds when they take up sufficient nutrients and water. Using smaller growing pots or bags, for instance, 3- or 5-gallon bags – may hinder your plant's growth. Instead, adopt large grow bags of 7- or 10-gallon volume to expand space and facilitate the uptake of the maximum amount of water and nutrients.
Spider Farmer 5- and 11-gallon heavy-duty grow bags are excellent choices for indoor growers. These thickened, non-woven plant fabric pots are designed to stand the test of time. They also have sturdy handles that facilitate easy movement.
8. Use the right nutrients for maximum growth.
Getting the nutrition right is crucial to the success of every stage of cultivation. Therefore, you must ensure that your plants can access the right nutrients depending on their growth stage and medium.
For instance, nitrogen and potassium should be present in high amounts, while phosphorus should be in minimal quantities for optimal vegetation. Similarly, the flowering stage requires medium to high phosphorus, high potassium, and low nitrogen. These proportions are not absolute – you should pay attention to your plants' response. Signs like yellow tips on the plants indicate nutrient overload and require immediate correction.
9. Use LED grow lights.
Indoor marijuana plants cannot survive with lighting – it is that important. Unlike plants in the wild, indoor growing plants have specific lighting requirements, which can only be met using the right grow lights and an overall optimal lighting setup. The LED grow light is the best type of grow light for maximum yields. Unlike the traditional grow lights, LED grow lights are powered by more efficient technologies. They are more energy-efficient and dissipate less energy, stimulating growth better.
Planning to buy grow lights for your indoor plants? It is essential to go for full-spectrum LED grow lights fitted with high-quality diodes. Spider Farmer manufactures the best full-spectrum LED grow lights in the current market.  They are specially made to deliver higher PPFD, which helps growers achieve optimal growth at every growth stage and maximum yields after harvesting. Spider Farmer premium LED grow lights are certified by the CE and RoHS (DHL). In addition, they are compatible with many indoor growing setups and come with a five-year quality guarantee.
You can never go wrong with a Spider Farmer LED grow light.
In Conclusion
There is no single technique to maximize yield when growing plants indoors. Instead, a grower must integrate multiple strategies or procedures to ensure optimal growth and increase post-harvest output. The practical tips provided in this article are an excellent way to start.